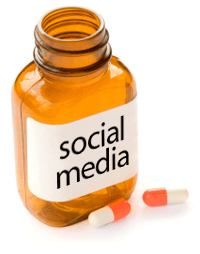 Social media success in consumer marketing has advanced beyond counting fans and followers. Today it's all about shares, retweets and links that indicate real consumer engagement with brands.
That hasn't been the case in pharma marketing, where hesitation to interact with consumers often trumps the desire to experiment. Engagement isn't a dirty word, but it's still a scary one in this industry. Measuring viral spread is more likely to be something that's happening in the labs.
Ogilvy Healthworld's annual social media audit–now in its second year–attempts to quantify the connections pharma brands make online. The survey of 14 corporate social media efforts in the industry attempts to go beyond measuring likes and follows. While it does take those into account, its audit seeks to measure engagement, activity and « viral-ness » of social media activity. It tracks 10 social networks–Facebook, Twitter, YouTube, SlideShare, LinkedIn, Pinterest, Google+, Vine, Flickr and Instagram–and uses a weighting system to even out the natural bias large companies would automatically have.
The data for this year's study was tracked for one week in each month of May, July and September 2014. Ogilvy only looked at the pharma companies' corporate handle activities, not individual product brands, across 6 categories: social presence, social network, community size, activity, engagement and virality.
It's not surprising that Ogilvy found the old saying « bigger isn't always better » held true. Some of the largest companies with the most fans and followers didn't fare nearly as well as some of the smaller and companies that happened to be more connected to their communities. Connectedness was key: Ogilvy's top 5 all had engagement scores that topped their community size scores.
But how did that engagement happen? Quoting the Nike brand motto: Just do it. Activity was the key behavior in spurring engagement, Ogilvy reported, with the most active social media efforts also having the most engaged audiences. Just as many consumer brands have discovered, simply broadcasting messages across social media platforms is proving ineffective.
Ogilvy's conclusion was that those at the top are superior at « connecting the dots. » That is, they're doing a better job integrating social media strategy into their overall marketing platforms.
The good news is that everyone in the pharma business is getting more adept and more comfortable using social media. Tweets increased by 530% year over year among the 14 companies Ogilvy studied, going from a total of 75 to 475 per week. The number of followers grew as well, by 295% to 790,000 total. Companies are using more social networks, too, with six companies now on Pinterest (a 200% increase) and Flickr (a 100% increase) and four on Vine, which Ogilvy just began tracking in 2014. YouTube reach, although still small, more than doubled from 12,000 to 28,000 subscribers overall.
While pharma companies have legitimate reasons to hesitate, with 140-character limitations and fair balance guidelines to consider, those concerns aren't stopping those at the top of the chart. (And by the way, neither is the FDA.) Consumers, patients and physicians seem open to social media messaging that by its concise nature cuts to the core benefit or quickly reveals new information. Ogilvy's advice to pharma? Be brave and move fast, but « wear a life jacket. » — Beth Snyder Bulik (email)
Source: www.fiercepharmamarketing.com