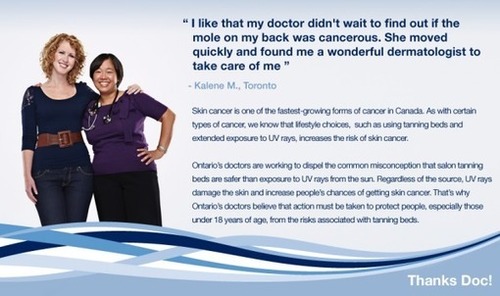 If you have, chances are you pulled your smartphone out of your pocket while you were in the waiting room and wrote something like: "Waiting at the doctor's office and I'm bored." And yet, if you're like the majority of Ontarians, you probably have a very favourable view of your doctor that extends well beyond waiting room boredom.
For the last two years, in the province of Ontario, May 1st has been Doctors' day. It's a celebration of the 400,000+ interactions that take place between patients and doctors each day and an opportunity to acknowledge doctors for their role in improving our health and well-being.
So to mark the occasion, and to help the Ontario Medical Association drive positive discussion about doctors, Edelman launched Thanks Doc! –an online campaign that asked Ontarians a simple question: "What does your doctor do to help improve the health and well-being of you and your family?"
As with any online campaign that involves user- generated content (UGC), planning is required in advance of launch to ensure that you're embarking on a path that will encourage constructive dialogue. Despite polling that demonstrated Ontarians' perceptions of doctors was very high, pre-launch research conducted by Edelman demonstrated that any online conversations were not reflective of the positive sentiment towards doctors by the majority of Ontarians.
This led us to the key insights that guided our program:
– People connect with doctors on a personal level, not as a collective.
– Despite Ontarians being more engaged in their health care than ever before, conversations are almost always about the personal impact of interactions with doctors.
– Those interactions are often positive in nature, but people aren't naturally inclined to go online to proactively share when things go smoothly.
The results:
Thanks Doc! helped to address this behaviour gap by providing a platform for Ontarians to celebrate the individual contributions of doctors. Throughout the six-week campaign we received individual stories from more than 450 people from all across the province. Over 98 per cent of those posts were positive in nature, focusing on the contributions of doctors to Ontario's healthcare system and the individual lives of the patients they serve.
See on edelman.ca