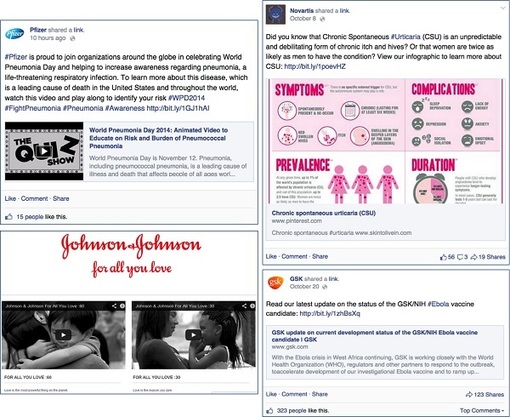 Many of these are successful in engaging their audience, considering that there are several likes and shares on each post, as well as some being commented on (especially if they are topical, like Ebola). More robust engagement comes in the form of competitions, such as BI's asthma photography contest. This gets people involved in creating content as well as raising awareness of a therapy area without being promotional and involving product names.
Figure 3. BI's photography competition serves as the cover image and connects an Instagram campaign to their Facebook page.
Going one step further, J&J not only asks general questions to the fans of the page, but is also involved in the follow-up discussions. Having personal responses from the company is of high value to the customers, and the dialogue helps build reputation. Note that the key to avoiding regulatory issues is to ask something that is not likely to lead to any mention of products or adverse events.
Figure 4. J&J gets involved in the conversation about Halloween.
Regulations within the industry mean that comments may be removed and most pharmaceutical firms on Facebook have disclaimers on their pages stating that this may be a result of referencing drugs or their effects. This is made most clear by having a different visible tab on the page labelled 'Community Guidelines' or 'Comment Missing?' as done on the pages of J&J, Pfizer, and Novartis. Having an easy-to-understand and friendly section on these terms helps alleviate any customer frustration.
Figure 5. The information page for consumers on the Pfizer page is clear and friendly about the company's comment policy.
The importance of engagement
This is just a small glimpse into how pharmaceutical companies are using Facebook in their messaging to the public. Although the medium may seem constraining, there is still room for creativity in providing compelling information while remaining compliant. The easiest way to promote participation and interaction with the company is through contests, quizzes, conversations about daily life, games and other activities that go beyond the 'like'.
As mentioned earlier, Facebook has allowed users to not only chat with their friends, but also with companies. However, the ultimate goal should be that these companies become friends through open dialogue with their consumers and transparency regarding their regulatory situation, in order to gain the trust and support of the people they serve.
About the author:
Stefan Marcus is research strategist with Creation Healthcare, the engagement strategy consultancy to the global healthcare industry with a special interest in the digital behaviours of health stakeholders.
Source: www.pharmaphorum.com