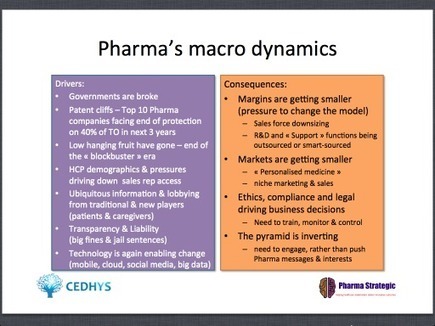 Sven Awege (@svennieco) writes:
Over the last few years I've worked in and with Pharma marketers from the digital side, trying to preach and teach the virtues of digital channels. It has been a thankless task, with bucket loads of blood, sweat, and tears of frustration. I have used a number of different techniques, from talking about the revolution in big forums to small softly, softly "express yourself" type workshops (no, there were no incense sticks smoking away in the background to the sound of trickling water).
Once the adrenalin rush dies down after each event I try to analyze what impact this may have had.
To be fair, some glacially slow progress has been made as the median knowledge of the industry inches forward, but it has not been the tidal wave that some had predicted, or hoped for.
Should we be surprised?
Probably not.
Looking back to my earlier days as an eBusiness evangelist in the late 90′s, where a solid part of our strategic recommendations included "give your employees access to email", we spent many a night conjuring projections with terms such as "dis-intermediation" and the likes floating about on post-its.
I recently took a fresh look at some of those crazy visionary presentations that we churned out, and guess what… many of them were right (Warren Buffet logic), but nearly all the timelines were wrong.
So what went wrong then, and is the same thing happening now?
See on pharmastrategic.com