To the pill and beyond… Journey to the heart of Janssen's innovation
I already had the chance, two years ago, to explore Janssen's pharmaceutical laboratory (see here)  and go behind the scenes ot their drug safety programme (see here).
This week, I'll be visiting their research and development centre (R&D) in Val-de-Reuil, to the west of Paris, a trip I'll share with you using the hashtag #JanssenInnov.
This research centre is one of 14 in the Johnson & Johnson group, the parent company of the Janssen laboratory. It stands out because it does just as well with the pharmaceutical branch of the group as with the 'consumer' branch, which is well known thanks to brands like Le petit Marseillais®, Roc® and Neutrogena®.
But what's interesting about Janssen's approach to innovation is that it's made the switch to open innovation, establishing 4 innovation centres under the umbrella group Johnson & Johnson Innovation since 2013.
As well as these 4 innovation centres, there are also the JLABS in the USA which form 'no strings attached' health business incubators, spread across 5 sites (4 in the USA and one which opened recently in Toronto).
All this is the logical next step for a global leader in health which in 1973 set up what is now the oldest venture capital firm in the health sector, and which for several years has been launching digital health solutions under the brand CARE4TODAY.
A visit to Janssen R&D… a journey to the molecule and beyond…
Janssen, the pharmaceutical division of the leading global healthcare company.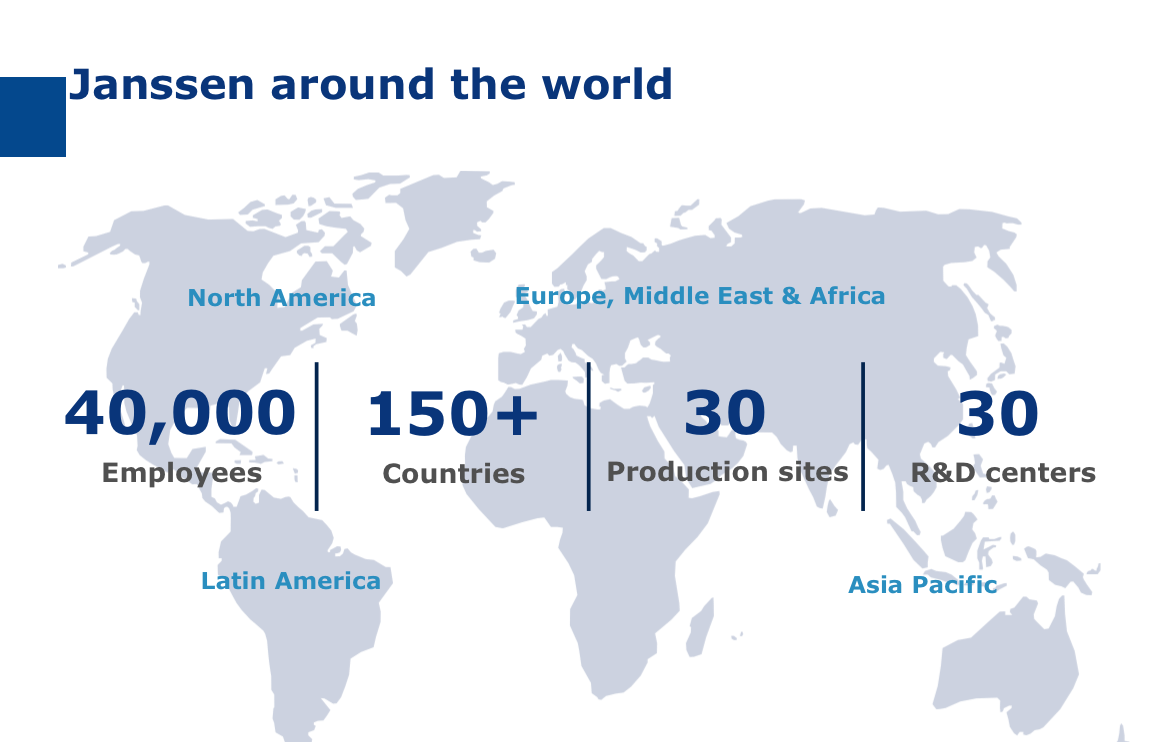 Created nearly 130 years ago, Johnson & Johnson is positioned as a global healthcare leader with more than 265 businesses across 60 countries which have generated 74.3 billion dollars of revenue in 2014.
126,500 employees, 14 R&D sites, 8.2 billion dollars invested in research in 2014…
The group is gaining wide recognition:
Most admired pharmaceutical company in the world, according to the Fortune magazine ranking 2015.
Best pharmaceutical company according to IDEA Pharma's Productive Innovation Index 2014.
In terms of pharmaceuticals, the company invests over 20% of its revenue in R&D and concentrates on 5 therapeutic areas:
Onco-haematology
Immunology
Infectious diseases
Neuroscience
Cardiovascular and metabolic diseases
R&D work that takes place at the Val-de-Reuil site is focused on medicinal chemistry in two treatment areas: oncology (haematology, prostate and lung cancer), and infectious diseases (dengue fever, respiratory viruses).
Open innovation and a startup mindset at the heart of Janssen's innovation
The average drug development cost exceeds a billion Euros and takes 14 years on average to reach commercialisation.
Apart from the huge risk taken by the pharmaceutical laboratory, there are real financial and public health motivations for accelerating the development and launch processes.
To address these challenges and develop research that works (3,000 new molecules are produced each year by the organic chemistry laboratory in Val-de-Reuil), several years ago Janssen established an Open Innovation policy.
This means collaborating with exterior partners (universities, biotechs, but also startups) in sectors as diverse as medicinal chemistry, biology, and biophysics… to name just a few.
The Open Innovation approach has expanded beyond the R&D process to cover the whole lifetime of a medicine, in the same spirit as the current transformation of the pharmaceutical industry towards a 'Beyond the Pill' and 'Patient Centric' mindset…
Beyond the molecule implies a move towards the construction of healthcare solutions that put the patient at the heart of new thinking and the development process.
The Open Innovation approach has pushed the Val-de-Reuil R&D centre to the cutting edge of oncology and infectious disease research.
Janssen France: concrete commitments
The seventh pharmaceutical laboratory on the French market, Janssen has developed both a commercial and industrial presence in France.
The Val-de-Reuil site is the group's second European R&D site but it's also the group's biggest production site in Europe with almost 70 million medicines and 160 million skincare products produced there each year.
This site, which exports 90% of its production, had its first inspection by the American FDA (Food and Drug Administration) in January 2015 and was certified without remark.
This confirms, as necessary, the company's commitment to quality.
Among the other commitments Johnson & Johnson has taken on in France since 2013, there are 6 partnership agreements with French businesses, and in particular a licence option contract with Effimune in 2013.
EFFIMUNE
Effimune is a biotechnology company originating from French academic research, a successful example of a spin-off of the Institute of Transplantation of Nantes, co-founded in 2007 by Bernard Vanhove, an immunology researcher, and Maryvonne Hiance.
Thanks to this collaboration, Johnson & Johnson is working on the development of new treatments capable of controlling the immune system in the context of autoimmune diseases or transplants.
This contract has enabled the commercialisation of FR104, a monoclonal antibody fragment in the pre-clinical development phase for the treatment of immune-mediated diseases.
Another example of partnership is the one that Janssen has developed with SEMIA.
SEMIA is an incubator for innovative businesses in the Alsace region which was created 15 years ago. Originally a university-run organisation, SEMIA began forming partnerships ten years ago and includes five members from the universe of research and one member who represents the Alsace Regional Council.
Since its creation, SEMIA has supported the birth of a hundred businesses.
Janssen supports startups, in particular in the pre-incubation phase, by showing them its credo, which is at the centre of its value system and managerial policy (see here).
Janssen is therefore an unhesitatingly innovative laboratory which has committed to having 40% digital interactions with healthcare professionals by 2016 and which fosters connections between all healthcare providers and patients.
So a great trip to learn more about a pharmaceutical laboratory which is firmly committed to changing its business model, using an expanded ecosystem where innovation takes precedence.
You can check with  #JanssenInnov on Twitter for the best tweets during that day…
Digitally yours,
Lionel REICHARDT /Pharmageek
in collaboration with Janssen – France