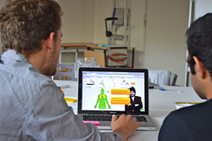 A group of summer school students have developed a digital service that calculates a person's risk of developing lifestyle diseases based on health indicators. The project is targeted at men between the ages of 30 and 60, who typically visit the doctor two weeks too late.
"The digital prototype that we have designed is dynamic, so the user can update their risk assessment by inputting their level of physical activity, their intake of food, alcohol and cigarettes, as well as their BMI. So if a user starts exercising 30 minutes a day, he will immediately notice that his chances of staying healthy improve. This type of self-monitoring works because it doesn't use threats. Instead it offers a tool that is personal, relevant and easy to use.
The goal is make people more interested in improving their health, as well as making them aware of how they can do that," says Lea Glerup, a psychology student at the University of Copenhagen who participated in the Digital Services Innovation in Healthcare summer school programme.
Over the past three weeks, Glerup worked together with a group of students from the Technical University of Denmark studying Design and Innovation, Management Engineering, Medicine and Technology, along with Communication and IT students from the University of Copenhagen. This dynamic group created a detailed product, though the process was demanding and required the students' complete focus.
"We had three intense weeks of summer school that included lectures from a wide range of experts. The learning curve was steep and an ordinary course would never be put together like this. But I thought it was cool because we got to see all the phases in concept development and got a general understanding of a rather complex field," Glerup says.
The Danish health sector offers many different types of treatment, but how will they fare as the population ages and more people develop chronic illnesses?
"There is a great need to plan and share information among the health professionals who are in contact with the patient, such as the GP, hospital doctors, nurses, pharmacists and physiotherapists. If it all has to be done manually, by writing in a paper record, or by email or telephone, the process can become long-winded. Digital systems are useful because they can manage different types of information and be flexible in unpredictable situations. They are also a perfect tool for dealing with a new trend in healthcare that sees patients getting involved in planning their own preventative treatment. That was why we chose it as the theme for the summer school this year."
See on news.ku.dk