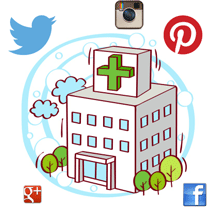 GONG Xiaoming, an obstetrician at a public hospital in Shanghai, usually sees about 30 outpatients a day, but when he writes an article about uterine fibroids (benign tumors) it can easily draw tens of thousands clicks within a day on his microblog.
"I can't believe that a doctor on Weibo can be so influential," said Gong, 42.
By day he works at the Shanghai No. 1 Maternity and Infant Hospital, but around the clock 520,000 people follow him on Sina Weibo, China's most popular microblog service.
Gong's popularity started with an article he wrote in 2012, saying that many female patients were diagnosed or even prescribed treatments to deal with "cervical erosion," which, he believes, is not a real medical condition.
Gong hoped the article would raise public awareness about wrong treatments. He was right. After posting it on his Weibo account it was reposted 33,000 times and garnered more than 4,000 comments.
One person wrote: "Hail to the doctor with a conscience!"
A search for "doctor" on Weibo returns more than 2,700 accounts, nearly half of them accredited to hospitals. There are also hundreds of "nutritionists" and "medical technicians" whose follower numbers range from thousands to 3.6 million.
As well as popularizing medical science, these people are revealing the human face of their profession through social media. They speak the slang of the Internet, talk about their private lives and make fun of themselves.
A former staff member at the prestigious Peking Union Medical College Hospital, Yu Ying is a pioneer doctor in social media. She named her Weibo account "Emergency Superwoman" and gathered a following by sharing the joys and embarrassments of working in a major hospital. However, her posts often sparked controversy by revealing problems in China's health care system.
"Social media is a good platform for offering for my observations, and lets me know the demands of my patients, as well of my staff," said Duan Tao, president of the Shanghai hospital. He began his Weibo and WeChat accounts, "Dr Duan Tao," in March, and now has more than 70,000 followers.
As a young nutritionist at Beijing Friendship Hospital, Gu Zhongyi, 27, used to believe he had no future "as the nutrition department is usually on the hospital fringes."
But since he began posting weight-loss and nutrition tips in 2010, he has become a celebrity with TV and online programs inviting him to give lectures.
Source: www.shanghaidaily.com