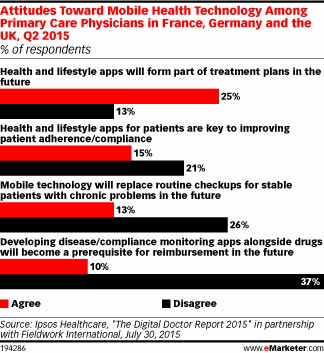 Doctors throughout Europe already work in an environment full of advanced technology, including highly sophisticated diagnostic and surgical equipment and other state-of-the-art devices. These days, though, they also need to deal with the gadgets in the hands of consumers—their patients. And doctors have mixed feelings about the explosion of mobile apps, wearables and other digital tools aimed at boosting consumers' awareness and control of their own health.
That's not to say that medics don't see essential value in a lot of the new tools on offer. According to the "Digital Doctor Report 2015" from Ipsos Healthcare, 72% of doctors polled in France, Germany and the UK had either used or recommended an app, online health forum or wearable technology in the previous year.
While four in every five doctors felt technology was increasingly important and would play a permanent role in healthcare, many were unsure what that role would be. For example, most doctors sampled by Ipsos were wary of overstating the benefits of mobile health apps. Some 13% said that mobile technology would eventually replace routine checkups for stable patients with chronic problems—but 26% disagreed. One in 10 said that disease/compliance monitoring apps used alongside drugs would become a prerequisite for patients being reimbursed by insurance companies for their health expenses—but 37% said this wouldn't happen. Asked whether apps were key to improving patients' adherence to health regimes, 15% of doctors said they agreed—but 21% said apps were not key.
Source: www.emarketer.com